Adash A3716
Adash Ltd.
The A3716 is powerful online monitoring system for rotating machinery. The A3716 system can operate as an independent monitoring system or it can be used as extension of an existing protection system. The A3716 module contains 16 AC, 16 DC and 4 TACHO inputs. All channels are measured simultaneously. The A3716 modules can be easily composed together and by this we can create system with more channels.
The setting and control of A3716 is done in DDS software. The setting has never been easier. The only thing you need to do is to create the tree of machines, measurement points,required readings and assign them to appropriate channels. Then you just press START and the readings are done automatically.
Adaptive algorithm of data acquisition
16 channels AC
16 channels DC
4 TACHO inputs
16 BNC buffered outputs of signals from sensors
16 programmable relays outputs
Adash A4300 VA3 Pro
Adash Ltd.
The A4300 VA3 Pro is the newest addition to our range of portable devices for vibration diagnostics. Signal inputs allows to connect two individual acceleration sensors or one Triaxial sensor. Input for speed probe is always ready to trigger your all three channel measurements simultaneously!
IR temperature sensor (for bearing temperature measurement) and a LED stroboscope/torch are built-in and ready to go by one button press. The A4300 VA3 Pro is designed for one-handed operation. With a weight of just 780g and a battery life of more than 10 hours of continous operation, the unit is suitable for long route measurements.
The A4300 VA3 Pro instrument can be configured according to your requirements by choosing optional modules.
Free modules in every VA3:



Ideal for route measurement
Long lasting battery
Low weight 780 g
Route memory: 8 GB
Colour display 240 x 320 px
User configuration of required measuring modules
Adash A4900 Vibrio M
Adash Ltd.
The A4900 Vibrio M device allows you to perform all basic vibro-diagnostics measurements for bearing condition, identification of mechanical faults and lubrication assessment.
The A4900 Vibrio M is equipped with 4MB of memory for data storage. Data memory allows you to store off-route and route measurements. The professional software DDS for Vibrio M can be downloaded from the Adash website free of charge.
Our expert system for automatic machine fault detection is included.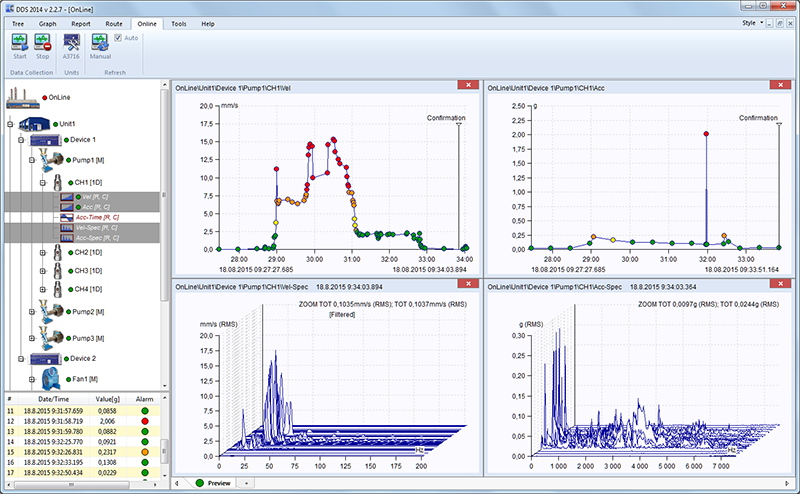 All basic vibrodiagnostics measurements: Overall values, Time signal, Frequency bands, FFT Spectrum, Route measurement
4 MB memory for data storage
Detects unbalance, looseness, misalignment or bearing faults
ISO 10816-3 included
8 hours of operation
LED stroboscope
Available also in intrinsically safe version
Adash A4910 Lubri
Adash Ltd.
The A4910 Lubri is a maintenance tool used for monitoring and control of the lubrication process. The A4910 Lubri measures the actual bearing lubrication status and informs the operator when the lubrication state is optimal.
Application of the A4910 Lubri extends the bearing lifetime and saves lubricants. Headphones can be connected to listen to the bearing/machine noise. The A4910 Lubri is simple to operate and also enables you to perform basic measurements and diagnosis of bearing condition. The A4910 Lubri can store the data and along with free DDS software allows to perform route measurements .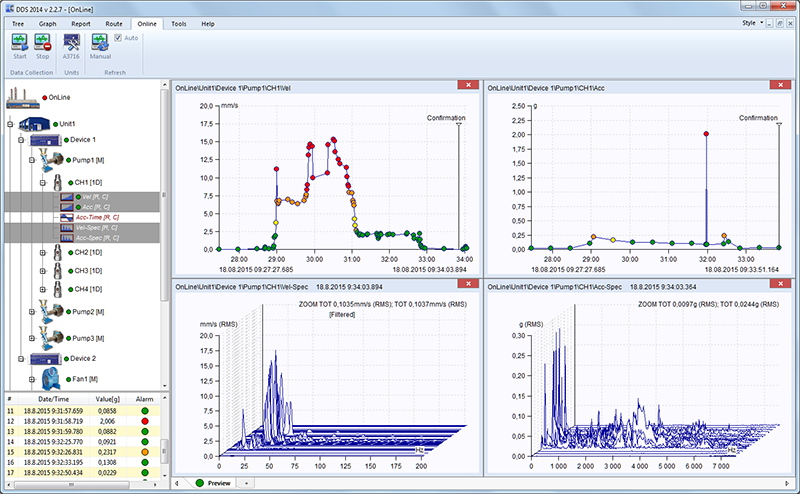 Increases bearing lifetime
Basic vibrodiagnostics measurement
Monitoring and control of lubrication process
Stethoscope function – "listening of bearing/machine noise"
Values in traffic light colours tells you when to add the grease
Adash A4950 Stroboscope
Adash Ltd.
Stroboscope enables to ostensibly stop rotating or generally periodic (reciprocating) motion of a machine. It allows also to find out the speed of rotation or to perform synchronized measurements without having to use reflective markers on the shaft.
The A4950 stroboscope uses three ultra-bright LEDs with optical system as a source of flashes. The device is equipped with a colour graphic display and 3 operational buttons. Operation is very easy and intuitive. Two standard or rechargeable AA batteries are used for powering. The A4950 stroboscope can be used also as a tachometer by connecting an external speed probe.
High power LEDs with lens and reflector system
Flashing frequency range from 0,5 Hz to 500 Hz (30 RPM to 30 000 RPM)
Flash frequency divider and multiplier
Control of the flash duration
Phase shift or shift by blades function
Flashing controlled by internal or external triggering
Powering for external laser tacho-probe
Trigger output for external instrument (balancer)
Torch mode
Powered by 2 AA batteries
Heavy duty case
Tripod mounting plate
Adash VA5 Pro
Adash Ltd.
Enjoy a huge touchscreen to analyze your machinery on site.
Measure 4 vibration signal channels and 4 process value channels (temperature, pressure etc.) along with speed synchronously. Triaxial sensor friendly, proximity probes for displacement measurement ready, balancer, octave analysis, bump test, ODS, MCSA – you name it …
New 4-Channel Touch-Screen vibration analyzer with thermal imaging camera and ultrasound detection.
VIBRATION ANALYSIS
THERMAL IMAGING
ULTRASOUND MEASUREMENT
Forget the rest and choose the best!
Explore the most powerful Vibration Analyzer on the market.
Use multitasking tool in order to analyze your machinery.
Vibration analyzer
Balancer
RAW signal recorder
Thermal imaging camera
Machine faults autodetection
Route data collector
Sound analyzer
Operating Deflection Shapes
Ultrasound detector
Run Up – Coast down
Lubrication monitoring
Stethoscope
ADF Series – Programmable AC Power Source
The ADF Series is a family of high power, single phase or three phase, AC Power Sources. Available models range from 15kVA to 90 kVA . Using a modern user interface for ease of use, the ADF Series is cost effective and fully programmable for basic frequency conversion and power test applications.
Key Features Provide Application Versatility
AC Output
45 to 500 Hz Frequency Range full power. (with Option F; 15 to 1200 Hz)
Single, Constant Power mode 300V L-N/519V L-L voltage range
Precision True-RMS metering of Volts, Amps, Power, VA, Power Factor and Crest Factor
Extensive Analog and Digital I/O for ATE and system integration
Available PPSC Manager Windows graphical user interface
Also compatible with legacy UPC Studio graphical user interface
Single or Three Phase Output models
Clean Sine wave AC output
Available in 208-240V or 380-480V 3 Phase AC input with Active PFC
200 stored programs
Continuous Self Calibration (CSC)
Precision Voltage Programming – 0.02% with CSC engaged
Standard Models in Power Levels from 15 kVA to 90 kVA. Contact us for higher power.
Standard RS-232, USB, GPIB and Ethernet Interface with SCPI compatibility
LXI Compliant LAN/Ethernet with embedded web server
IVI Instruments drivers
CE (EMC/Safety) and Nemko (Safety) Marks
Design Provides Total Control of AC Power
All ADF Series power source models are equipped with a digitally Programmable Controller.
All operating functions may be controlled from either the front panel or from a remote RS-232, USB, LAN or GPIB interface.
IVI Compliant Instrument Drivers are available.
Special ADF Series Operating Features
Continuous Self Calibration
Provides for exceptional accuracy of the AC output Voltage. When enabled, accuracy improves to ±0.02% referenced to the power source internal voltmeter.
Single Voltage Range with Constant Power Operation
More output current available at lower voltage setting without having to change range.
Stored Programs
Create and save output settings (programs) for quick recall or set user defined soft key quick set values for commonly used voltage and frequency settings.
Aeroflex 3550R
VIAVI
The 3550R is the first truly portable touch-screen radio communication test system. The 3550R takes radio and repeater site testing to the next level with a quantum leap in an easy to use, integrated test system for complete radio receiver and transmitter performance testing, cable fault and antenna system analysis. With its ultra-responsive resistive touch-screen, the 3550R brings a whole new experience to RF testing.
Next generation touch-screen operation
Internal battery provides 4.5 hours of true portability on one charge
Super light magnesium alloy – 8.3 lbs/3.75 kg weight
Complete support for AM, FM, DMR, P25, NXDN™, dPMR and ARIB T98
Define your own test screens and then save for future use
0º to 50º C operating range
0.15 ppm timebase with exclusive "Freq-Flex" external flexible frequency reference
Multi-Language support includes Simplified and Traditional Chinese, Spanish, Portuguese, Korean, Japanese, German, French, etc.
Complete RF Transmitter Testing: With integrated RF power, RSSI, frequency error and modulation meters, the 3550R provides complete analysis of AM, FM, P25, DMR, dPMR, NXDN, and ARIB T98 radio systems.
Complete Analog Test System: The 3550R includes the capability to perform direct connect type testing on a radio. All radio parameters including power, frequency error, modulation accuracy, receiver sensitivity, and audio performance are easily accessed and tested.
Remote Operation and Remote File Access: The 3550R has the perfect solution for you to remotely monitor tough to find system anomalies through your smartphone, tablet, or PC anywhere on the planet.
Channel Analyzer: RF signals can be graphically analyzed with the Channel Analyzer option of the 3550R. The channel analyzer allows the user to analyze up to 5 MHz spectrum of signals from a repeater, a mobile radio, or a hand-held, while at the time demodulating the signal and taking modulation measurements.
AAR Channel Plan Option: AAR stands for Association of American Railroads and is an association of US and Canadian railroads. This option controls the RF frequency of both the generator and receiver of the 3550R based on the channel number.
Aeroflex 3920B
VIAVI
Newest in low phase noise RF signal generator technology
The 3920B features a new low phase noise RF signal generator in addition to the already advanced functionality available on the Cobham 3900 Series. The 3920B includes many standard features as well as a host of optional test capabilities, digital personalities, and the Auto-Test II Alignment capability.
Testing Capabilities
Analog AM and FM
P25 and P25 Phase II
DMR (MOTOTRBO)
NXDN™
dPMR
TETRA
TEDS (TETRA Enhanced Data Service)
Automatic Test and Alignment of a wide range of mission critical radios
Performance
RF signal generator with SSB phase noise of -110 dBc/Hz at 10 kHz offset
Sensitive receiver for making accurate measurements
2.7 GHz RF frequency range for generate and receive
Full spectrum analyzer and tracking generator with displayed average noise level of -140 dBm
Aeroflex 8800SX
VIAVI
The NEW 8800SX expands upon the unprecedented features of the 8800 Series with a new 10 MHz external reference and new software capabilities to further speed testing of today's Land Mobile Radio systems.
With its hybrid portable design, the industry's largest color touch-screen display, ruggedness, internal battery, power accuracy, advanced automated test and alignment, fast VSWR/Return Loss and Cable Fault measurements, the 8800SX offers RF professionals a whole new experience in radio test.
Product Overview
Dimensions:  34.3 cm (W) x 29.3 cm (L) x 14.6 cm (D)   <13.5 x 11.54 x 5.75 inches>
Industry's Largest Display Size:  30.5 cm   <12 inches>
Base Unit Weight:  7.71 kg   <17 lbs>
Internal Battery:  2.5+ Hours of Operation
Rugged:  30 G Shock, MIL-STD 28800F Class 3
Measurement Range:  -140 dBm to 500 Watts
Power Accuracy: 10% (6% typical)
Test Capabilities
AM / FM
P25
P25 Phase II
DMR (MOTOTRBO™)
NXDN™
dPMR
ARIB T98
PTC
Unique Features
10 MHz external reference
Automated Test and Alignment
New Wideband Analyzer
Fast Channel Analyzer with Six Color Markers
Fast Stack: Test functions can be stacked on one another and instantly accessed
Presets: Ultra-fast store and recall of test setups
Frequency Lists: User-defined frequency lists with editable Tx Frequency, Tx Level, and Rx Frequency entries
Audio Record/Playback: Digital audio quality performance tests
Color Meters: Color indicates pass/fail results on each meter
Digital Modulation Plots: Distribution, Constellation, and Eye Diagram
TDMA Burst Profile Plot: For DMR only; includes a burst "Mask" for visual pass/fail
DMM: Simple measurement of Voltage, Current, and Ohms; required for automated test and alignment on mobile radios
In-Line Power Meter: Internal or External; 500 W input with 4% Accuracy
Tracking Generator: VSWR, Return Loss, DTF, and Tuning Duplexers
Multi-Language GUI:English, Simplified Chinese, Traditional Chinese, Spanish, Portuguese, Malay/Indonesian, Korean, Arabic, Polish, Russian, Japanese, German, and French
Aeroflex ALT-8000
VIAVI
Aeroflex's ALT-8000 is the world's first and only RF-based portable radio altimeter flightline test set. It weighs approximately 10 lbs. (4.5 kg) with a large 12-inch color touch-screen, making it easy to use. The ALT-8000 is a universal test set for 4.3 GHz FMCW (frequency modulated continuous carrier wave) radio altimeters and pulse radio altimeters. The simulator is also designed to be software upgradable.  For military applications, see the ALT-8015.
General
The user interface is Windows™ based and provides various pages for control of the test set and display of parametric measurements including: TX power, TX frequency (center), sweep rate, TX pulse width (pulse systems).
Profiles
The Profile page allows the user to create, save, recall or delete named profiles. Each profile is comprised of individual legs. Start, stop altitudes and rates are definable for each leg. A profile can then be executed to simulate a complete landing approach including flare out or a take-off and departure.
RF Coupling
The supplied antenna couplers allow the radio altitude system to be quickly verified without access being required to test ports on the UUT LRU. The RF looped test verifies TX frequency, power, sweep rate, and RF level control provides the means to test UUT sensitivity.
Setup
The setup page allows system, user and RF connection parameters to be set by the user, including RS-232, AID, RF cable loss and altitude offset.
Tests FMCW radio altimeters including CDF types
Tests pulse radio altimeters (non-pulse compression types)
Direct-connect to UUT T/R or to installed system via antenna couplers
Full RF loop test allows TX, RX, Antenna or Feeder faults to be identified
Multi-channel operation (via additional test sets)
Programmable multi-leg climb/descend profiles
Large touch-screen display with simple user interface
Remote control interface USB/LAN
Lightweight and compact about 10 lbs. (4.5 kg)
Battery 4 hours plus duration
Aeroflex GPSG-1000
VIAVI
Aeroflex's configurable GPSG-1000 is a truly portable, easy-to-use GPS and Galileo positional simulator. It fills a gap in the market by providing a low-cost 12 channel test set that creates three-dimensional simulations. This new simulator is also designed to be software upgradable.
System
Simulated 3D position may be user entered in latitude/longitude/height format or 3D position may be dynamically simulated utilizing a multi-leg waypoint entry scheme. An unlimited number of navigation plans may be saved and recalled under a user assigned name.
A built-in GPS receiver allows positional simulation in the form of a range, heading and altitude based on current test set position.
Satellite Vehicle (SV) Selection
All GPSG-1000 configurations allow GPS and Galileo satellites to be mixed. (The Galileo codes may be updated via a text file upload.)
Waypoints
Waypoint legs join up in 3D space, with either range rate or altitude-rate being auto calculated. Trajectory changes are calculated to simulate real world navigation, i.e. waypoint leg heading changes utilize realistic rates of turn; altitude changes utilize realistic rates of descent or climb. Way points may be entered in LAT/LONG form or automatically recalled from an airport or city database.
SBAS
SBAS satellites WAAS/EGNOS may be manually selected or automatically based on simulated position.
Setup
The setup page allows system, user and RF connection parameters to be set by the user.
GPS signals simulated: L1, L1C*, L2C*, L5*
Galileo signals simulated: E1, E5**, E5a**, E5b**
Simultaneous GPS/Galileo simulation
WAAS/EGNOS SBAS simulation
Static and dynamic simulations via NMEA-0183 File Record and Playback
12 channel configuration available with upgrade path (RAIM supported)
Programmable space vehicle (SV) parametrics and health
User or built-in GPS receiver referenced time and date
PVT data available via RS-232
User Defined Data Transferable between Linked GPSG units
Remote control interface Ethernet
* For tracking of L1C, L2C or L5 signals some receivers require synchronized L1 transmissions.
** For tracking of E5 signals some receivers require synchronized E1 transmissions.
Aeroflex IFR 4000
VIAVI
The IFR 4000 is a compact, lightweight and weatherproof unit designed for testing ILS, VOR, Marker Beacon and VHF/UHF communications avionics systems.
The IFR 4000, with its lightweight size (under 8 lbs.), long run time battery (8 hrs) and ergonomic design, will provide the user with the most portable navigational communications ramp test set on the market today. Cockpit and bench use testing can be easily interchanged. The menu driven functionality and guided test capability make this instrument extremely easy to use. Combine these benefits with the outstanding price and the user has an instrument that delivers total value.
* Option 1 Required
Accurate measurement of 121.5/243 MHz emergency beacon transmitter frequency, output power, modulation (AM). Headphone audio output to monitor swept tone *
Accurate measurement of 406 MHz COSPAS/SARSAT emergency beacon transmitter frequency, output power. Decode and display of all location and user protocols *
Accurate measurement of HF transmitter, frequency, output power, modulation (AM and SSB USB/LSB) receiver sensitivity
Accurate measurement of VHF/UHF transmitter, frequency, output power, modulation (AM and FM and receiver sensitivity)
Generation of ARINC 596 Selective Calling Tones
Accurate measurement of VHF/UHF antenna and or feeder SWR (Standing Wave Ratio)
Simulation of Localizer and Glideslope (CAT I, II and III) signals with variable DDM settings
Swept Localizer DDM for coupled Auto Pilot testing (Simultaneous Localizer, Glideslope and Marker signals)
Simulation of Marker Beacon, Selectable Airways (Z), Outer and Middle Marker Tones
Guided Test capability cuts down total test time
AL3000R Series – High-power technology
ZENONE ELETTRONICA
IGBT multilevel Tecnology
power from 5KW up to 500KW
voltage from 10V up to 1200V
in parallel up to 4MW
slew rate down to 500microS
modular assembly
constant power models CP
efficiency >95%
Operating mode CV / CC / constant power
internal resistor simulation
can be controlled from front panel, serial, inputs
design table rack, built-in rack, cabinet
CV accuracy better than 0.2%
CC accuracy better than 0.3%
low output ripple
insulated output
PC control software
Albedo AT-One
The AT-One is the ultimate TDM tester T1 and E1 tester designed in 2015 and launched in 2016 for field engineers that are installing, commissioning and troubleshooting T1, E1 links, Synchonization Networks, and Datacom circuits. This instrument, designed and manufactured in Europe by ALBEDO Telecom, is a brand new platform, incorporating the latest available electronics, consequently you will enjoy top performance, high accuracy and, of course, a very competitive price.
Take a look and try this innovative and flexible tool, you will love it after discovering how the latest FPGA can overcome previous limitations in accuracy, space or performance. Honestly, nothing else can really be compared with this outstanding update for T1/E1/Datacom/Jitter/Wander testing.
24h. of operation at FULL bit rate
All in one: T1, E1, nx64, Datacom, Jitter, Wander, Frame Relay
Double port
Pulse Mask
RJ45 balanced interfaces
New datacom interfaces with CISCO data cables
Display 480 x 272 TFT full color touch screen
2xUSB and Ethernet ports
High performance
Extra rugged while lightweight (1kg)
VNC remote control
Mobile Operators
Digital Voice and Data
Jitter measurement
Wander Measurement
Pulse Mask
Synchronization
Voice Frequency